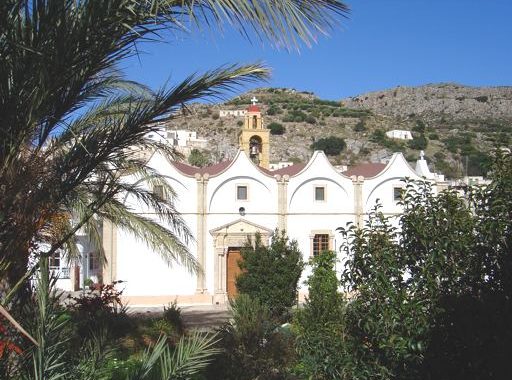 30 kilometers east of Ierapetra there is the municipal unit of Agios Stefanos, which apart from the homonymous picturesque village, includes the most popular touristic resort of Makrys Gialos.
The settlement of Agios Stefanos is built on a hill, at an altitude of 453 meters and it is a typical example of the mountainous culture of Cretan people. Its privileged position offers a unique view of the Libyan Sea and the mountains of Thrypti and at a distance that is smaller than 6 kilometers, inhabitants and visitors can enjoy the cosmopolitan beaches of Makrys Gialos.
The older ones must probably remember the settlement since it was named "Gras", a name about the derivation of which there are many opinions. Its modern name is due to the impressive holy temple of Agios Stefanos, which stands out for its special architecture and its internal and external decoration. It is the main reference point of the village and right next to it there is the small square with the coffeehouses where the locals gather. Agios Stefanos is densely inhabited and stands out for its meandering stone-paved alleys. Somewhere there, you will find Kimeri, the old (now renovated) spring of the village with its typical arch in the ponds of which the women used to wash their clothes at the time when water supply had not reached the houses of the settlement yet.
In the past "Kastelos" or "Fortetsa" used to stand out on the rutty, steep hills of the village peak. A Venetian fortress, which is now abandoned, is thought to have been built at the foundations of the citadel, most probably during the Greek Dark Ages, and according to the legends of the village it was destroyed by the attacks of renowned pirate Barbarossa. Although the area has not been systematically excavated there are findings that suggest that it has been inhabited since the 9th century B.C.
Because of the rapid touristic development of Makrys Gialos that started in the 80's , many locals abandoned the area and moved to the more "fertile" coastal areas; however, nowadays Agios Stefanos is a mountainous village that is reviving at a fast pace. The main cause is the rediscovery of the beauty of the village by tourists that used to crowd the surrounding coastal areas every summer. There are tens of foreigners –mostly from Northern Europe- who after having highly appreciated the picturesque style of the area and its mild climate, have bought houses and land plots, they move to Agios Stefanos either permanently or occasionally, reviving the area in this way.
The coffeehouses of the area host many festivities every year, ranging from exchange bazaars to events for the learning of lyre and bouzouki for foreigners. Philip from Belgium is a typical example; after he travelled all around Crete he ended up living permanently in Agios Stefanos in order to set his own small observatory from which anyone can enjoy the starry sky during the whole year.
Additional Info
Location: Makrigialos Region – 30 km far from Ierapetra – 7 km from Makrigialos
Access: Aphalt road
Residents: 250 (2017)
Αltitude: 460m