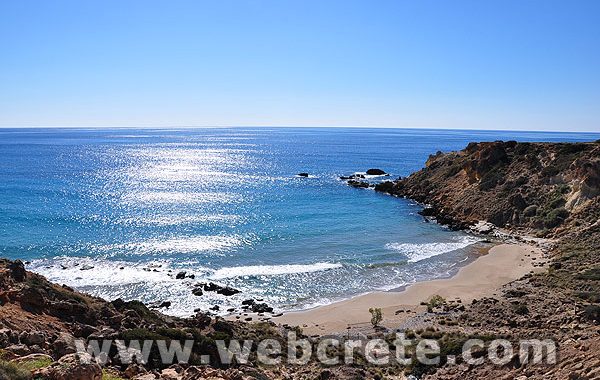 Ammoudi is as small and protected beach 5km east from Makrigialos (or Makrys Gialos), and 6km west from Goudouras village. The distance from Agios Nikolaos is 66km and 29km from Ierapetra. It lies just next to the road connecting Makrigialos and Goudouras and close to the Kapsa monastery. It is also called Dragon's Cave, due to a large cave 500m north of the beach and the homonym tavern next to it. For many this is the best beach in Makrigialos region.
It is a stunning remote beach with fine golden sand, which is formed in a small cove, that is not easily seen from the road. In order to locate the beach, you have to stop when you see the Dragon's Cave tavern and walk the small path towards the sea (for 5min). The beach is totally secluded and is ideal for families. The locals know this place and come daily with their families. The beach is surrounded by high cliffs and smooth white rocks, reminding of marbles, but the seabed is sandy.
500 m southwest from the main Ammoudi beach, there is a smaller but quieter beach, with the name Mikro (small) Ammoudi. It is not visible from the main beach or the asphalt road, but if one wants to walk and enjoy nature by walking a little over the hills, he will see a picturesque and beautiful beach a little further west. You will need a 10-minute walk to get there without a problem because there is a distinct dirt road and footpaths that you can take. The length of the beach is not over 70m and there is unfortunately no possibility of shading either from trees or rocks. Ideal place for those seeking and looking for the remote, unknown and hidden beauties of Crete!
Facilities-Additional Info
Distance: Heraklion 126km – Ierapetra 31km
Beach type: Mainly sandy and less pebble
Facilities: No organized beach with limited choices in Kalo Nero or Langada, Some shadow by rocks for the main beach
Accessibility: Asphalt road – Limited Bus connection (Ierapetra – Goudouras)
Food-Hotels: Restaurant: Yes – enough choices in Kalo Nero – Accommodation: Limited choices. Much more in Langada and Makrigialos – Suitable for quietness