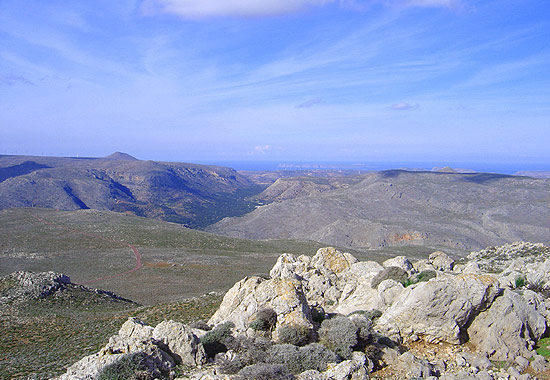 Traostalos is one of the highest mountains near the coast of east Crete and is 14km far from Palekastro Village. Despite its only moderate height (515.4 m), however, the solid, isolated massif of Traostalos dominates the surrounding area, and its summit can be distinguished from afar, both from the sea and from inland.
From Azokeramos settlement (10km south of Palekastro village)and next to the Byzantine church of Agios Ioannis, there is a new dust road, which leads to the top of the mountain. The road which is of good condition, was made recently and it is not difficult to drive it, either by a simple car.
If you are lovers of the hiking, the route will offer you a marvellous view to the Zakros' area, to Xerokambos (southern) and to the small settlements near Palekastro as Chochlakies, Kelaria, Adravasti).
As you reach the top, you will see the perfect blue of the Cretan Sea to the east. Before that you will see the entrance of Karoumes' gorge. From the top you can see clearly the Skinias bay to the north. The highest point of the sanctuary commands an uninterrupted view over the entire east end of Crete, Kasos, Karpathos and the Dionysades islets to the north, and Koufonisi to the south. It thus overlooks the sea route from the north Aegean to the east Mediterranean.
The hikers will need almost one hour to ascend the last 5km. Just think that the route starts from Azokeramos (260m high) and ends to the tope Traostalos (520m). The return is much easier.
In the eastern side of the mountain, near the sea and 150 m high the known cave of the area of Zakros "Pelekita" is situated.
The sightseeing in the area and the view of the tops of the surrounding Sitian mountains will give an appetite for more activities and adventures.
Additional Info
Altitude: 260 – 520 m
Starting Point: Azokeramos Village
Path Type: Not asphalt road (8km)
Difficulty: Moderate
Walk distance: 12 kms : 3-4 hours (Azokeramos – Traostalos – Azokeramos)