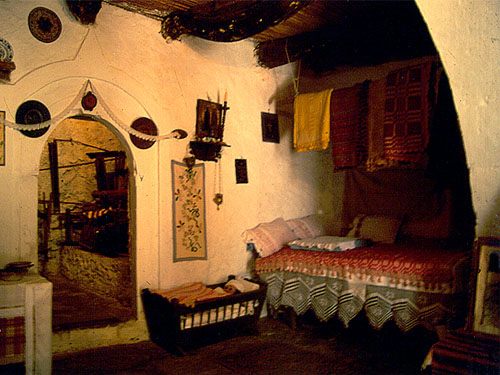 The cultural association of the village and the Educational Society of Hamezi established the Folklore Museum of Hamezi.
The museum as it is today was built in two different time periods. In 1978, when the Educational Society was formed, the first section of the museum was created, which portrays the traditional Cretan house from the last century. It is a house with archways, typical of that found throughout Crete, that was also the most common house style. The division of interior space by the use of archways, creates four distinct functional units, without breaking the integrity of the whole. These four units were each used as sleeping areas, for cooking, and to entertain visitors. An interior door connects this area with a workroom where the loom was kept, this room also being used as a storage area.
It must be said that the products created by the womenfolk on the loom had more to do with the decoration of the home and with decorative enhancement of women's clothing, than with making any contribution to the home finances. As the house is simple, so too is the furniture therein.
Items on display include a loom, a set of chairs with a low dining table, a mirror, a large couch and a large chest which was used to keep a prospective bride's dowry, the candle holder used for the lamps providing light for the home, grinding stones used for grinding wheat, and large and small earthen water pitchers.
This building was donated to the Educational Society of Hamezi by Mrs. Irene Papadakis who was the first President of the Association, who had purchased it from the successors of the previous owners. The year 1993 saw the construction of the new wing of the museum, giving it the form that it has today. This new wing of the museum contains an old factory for producing olive oil, the ironsmith's workshop, and a very beautiful courtyard where a wine press used to pulverize grapes has been constructed of stone, the water cauldron area, and the small oven which was to be found in every such courtyard and used only for the needs of each individual home.
The other building is a model of local traditional architecture. These buildings were bought from the Educational Society of Hamezi in a very dilapidated condition, but the local stonemasons, using the ingenuity of their craft, rejuvenated the building giving it the form that can be admired by today's visitor to the Folklore Museum of Hamezi.
The aim of the Educational Society of Hamezi is that this property of the Museum would become a place which demonstrates the folklore traditions of the local area. All this work was carried out with the utmost care and respect for our cultural traditions. In particular it must be pointed out that almost all the exhibits of the museum were donated by the local villagers, something that is especially important.
Additional Info
Museum type: Folklore Museum
Location: Hamezi Village
Opening Hours: Monday, Wednesday, Friday 10:00-13:00. Other hours upon arrangement-contact
Entrance Fee: 1,5€
Contact: By Phone +30 2843029243 – Email: zoumakis@sitia.gr