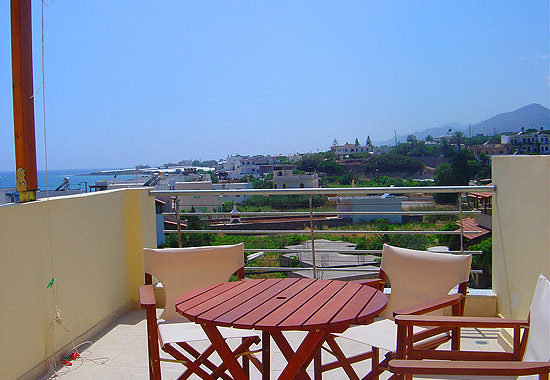 Daidalos Villas is a newly built complex consisting of 4 maisonettes with sea view. The maisonettes complex is located in Makrigialos just 80 m from the beach. The Villa consists of 4 housing units. The holidays apartments are designed to be next to each other with a private balcony with a fantastic sea view to the Libyan sea.
The 2 bedroomed apartments – maisonettes are suitable for families with children and also for smaller groups.
There are 3 big family maisonettes with 2 bedrooms, a big furnished private balcony with fantastic sea view. The 4th maisonette is consisting of one bedroom a living-room and a big private furnished balcony with sea view. All rooms are tastefully decorated.  The place is wonderful and peaceful, the beaches are very clean and not crowded, the water is sparkling and you will really enjoy your relaxing holidays.
You can reach the village centre and the port of Makrigialos in 4-5 minutes walk away. We hope to welcome you in one of our apartments-maisonettes.
Phone: 0030 28430 52038
Mobile: 0030 6972817184
Email: cretanvillas@gmail.com
Website: www.creteholidaysvillas.gr
Send a message to the owner..