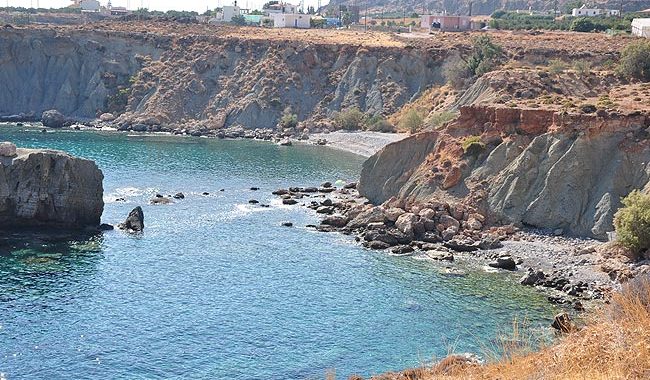 Kalo Nero is a small coastal settlement between Makrigialos and Kapsa Monastery. By taking the road from Lagada Beach to Goudouras, you will reach Kalo Nero beach and several other small coves and beaches which are often deserted and there are no facilities on the beaches.The beaches are located in one of the most rugged areas of eastern Crete.
Actually the village Kalo Nero is located at the outlet of a small, but inaccessible, rocky canyon. You will see the church of Panagia, an old chapel built at 1865, around which the inhabitants of the mountainous village Pervolakia built buildings to stay, when they brought their cattle to graze here. The church was built on the remains of an older chapel, owned by Kapsa Monastery, which was built in 1461. There are several springs with fresh water, hence the name Kalo Nero (i.e. Good Water), which is very strange for such an arid region.
Here, you will find three remote and small beaches that are ideal for swimming away from the crowds:
Koutsounari the first beach on the west is a secluded pebbly one, with plenty of rocks in the sea.
The central section, Staousa, has small pebbles and crystal waters: when there, take a look at the cave at the east end. A small path, with steps, gives access to the beach from the road.
Anaskelou, the easternmost, has small pebbles on shore and large rocks in the sea: shut off from the local winds, it is used as a small harbour for small boats.
Facilities-Additional Info
Distance: Heraklion 128km – Ierapetra 33km
Beach type: Thin Pebble, less sand
Facilities: Limited choices in Kalo Nero, Shadow by rocks
Accessibility: Asphalt road – Limited Bus connection
Food-Hotels: Restaurant: Yes – enough choices in Kalo Nero – Accommodation: Limited choices. Much more in Makrigialos – Suitable for quietness