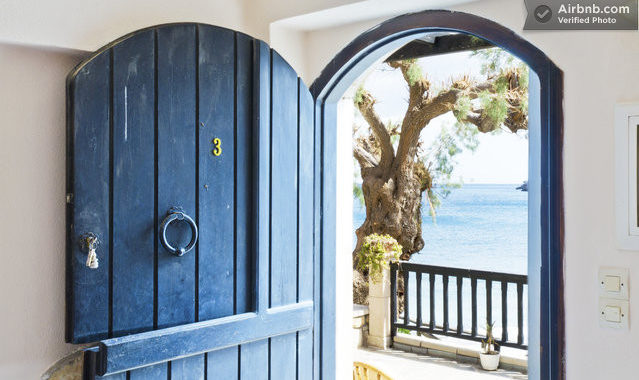 Kato Zakros Beachfront accommodation
Coral rooms in coastal resort Kato Zakros for your holidays – vacation.
Whether you sit on the terrace or gaze at the view of the beach and sea below from your room, Coral Rooms provide the real sea-side experience with comfortable and well  cared for surroundings.
Coral Rooms are located almost at the water's edge and very near to the Minoan palace. You will spend a relaxing holiday, enjoying the fresh air from the sea and listening to the sound of the waves at the end of the day. Stand on the terrace at Coral Rooms in the first light of dawn and you will see an unforgettable sight, as the burnished disk of the sun rises out of the Libyan Sea.
Athena Rooms – Kato Zakros
Next to Kato Zakros beach and the most swimmable waters of Kato Zakros – you can't stay any further east in Crete! With sea views from the rooms – this is the beach and island dream come true. Every room has "the view" and private bathroom.  Best choice east Crete Kato Zakros.
Katerina Apts Kato Zakros
In Kato Zakros 300 metres' walk to the gorge is worth the trouble. Following the European path E4, on the way to the gorge, the famous Valley of the Dead, you cannot miss the archaeological site of the place, the Minoan palace. Our newly built "KATERINA" apartments and maisonettes situated amphitheatrically all in Cretan style are just opposite the rocks of the hill.
Phone: +30 28430 26893
Mob. +30 69746 56617
Email: akrogiali@sit.forthnet.gr
Website: http://www.katozakros-beachfront.com
Akrogiali Taverna
Eastern Crete Kato Zakros the taverna next to the sea. Serving fresh fish caught by Kato Zakros local fisherman, grilled foods and wonderful salads with your choice of wines and beers. The taverna serves local Cretan foods and delicacies and a wide variety of choices to suit every taste. Dine on our Kato Zakros sea front terrace – with nothing between you and the pleasure of eating with friends or family as the view soothes and relaxes you.
Send a message to the Owner..