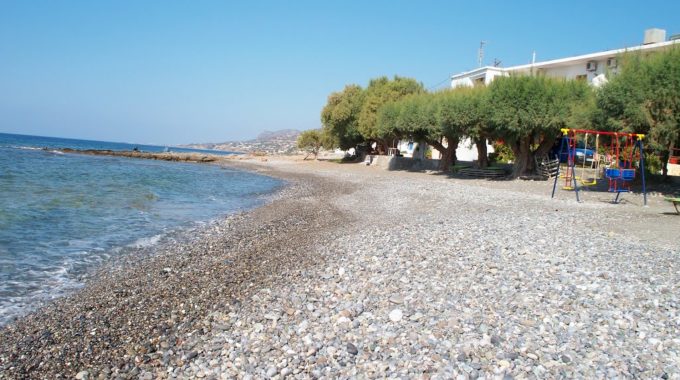 The beach or beaches of Koutsouras are situated at a distance of 55 kilometers far from Agios Nikolaos, 35km away from Sitia on the way to Ierapetra, which is the seat of the Makris Gialos municipality, and 20 kilometers eastern to Ierapetra, in front of the homonymous village, with some 800 permanent residents.
All the beaches are relatively small, mainly pebbly and well protected from the north winds and are generally less attractive than the ones in Makrigialos, 2-5km to east. The visitor is entranced by the unique dark grey pebbles, turquoise waters and shady pine trees. This grup of beaches of Koutsouras is another interesting beach area on the way from Ierapetra to Sitia and has been awarded with a European Blue Flag.
It is a very good choice for staying, as it offers accommodation facilities in hotels and rooms to let and food and drink in the fish taverns of the settlement. You will also find facilities for swimming and sunbathing (sunbeds, umbrellas), as well as sea sport activities. And, if you feel like wandering around, there are several other beaches in short distance, which you will certainly like.
If you wish to combine swimming with sightseeing, get in your car and drive up to the mountainous village Orino (meaning "mountainous"!), found at the eastern mountainside of mountain Thrypti , at a distance of some 14,5 kilometers at the north, and take a coffee, a refreshment or, much better, a "tsikoudia", under the shade of the walnut and plane trees, listening to the birds and to the sound of the current water around, as you enjoy the fascinating view.
Or, drive up to the southern mountainsides of mountain Orno (the south side of Sitia mountains) , enjoy the wonderful route and take your coffee at Stavrochori , 7 kilometers from Koutsouras village, or at Chrysopigi (11 km far from Koutsouras ).
If you like walking, the flat area around the village is ideal; you will walk within a mild landscape , with greenhouses and plantation all around.
If you are around in September, don't miss to attend the local feast ("panigiri"), in honor of Timios Stavros ("Holy Cross"), on the 14 th of September. The feast takes place at the church of Timios Stavros, found at the top of mountain Thrypti.
Facilities-Additional Info
Distance: Heraklion 120km – Ierapetra 23,5km
Beach type: Pebbles
Beach length: 175 m (Main Beach)
Facilities: Accommodation nearby, Restaurants nearby, Tree Shade, Umbrellas & beds, Blue Flag
Accessibility: Bus stop 100m, Paved road
What to do in Koutsouras..