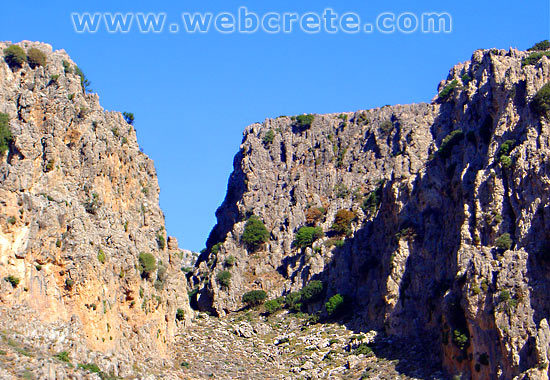 We go onto the narrow asphalted way from Pefki village, which leads to Vreiko cave. We park the car where the asphalted road stops and we go on the distinctive path. In 10 min. walking we arrive at the known cave Vreiko. We can visit the cave. Its entrance is very impressive where you can find a big fig tree.
From that point we climb the path which comes over the gorge, which is in front of us. For half an hour we go on the rocky bank watching the cedar trees bobbing up in the gorge.
A little bit later when you come out of the gorge as you go on walking to the north direction, the ground becomes flat with no many rocks. But we have to be careful not to lose our way, because it is not so distinctive now. From Vreiko cave there are blue signs upon rocks at intervals. Going out of the gorge, there are no more blue signs.
We walk across that flat ground for 10 minutes and then a dirt road is seen from afar. This is the road leading to Dafni village, after one hour walking. After 15 min. walking on the dirt road, it turns to the west, where Dafni village is located. This route is easy to walk with a very nice view to the mountainous area of Handras and Sitia.
Additional Info
Altitude: Pefki 420m – Dafni 605m – Highest point 750m
Starting point: Pefki Village
Path Type: Not good marked path and dirt road
Difficulty: Easy
Walk distance: 8km – 2,5 hours
During summer, on a daily basis, cars occupied by Greek and overseas tourists arrive at Pefki village, where they walk through the alleys by taking photos of village and the surrounding…