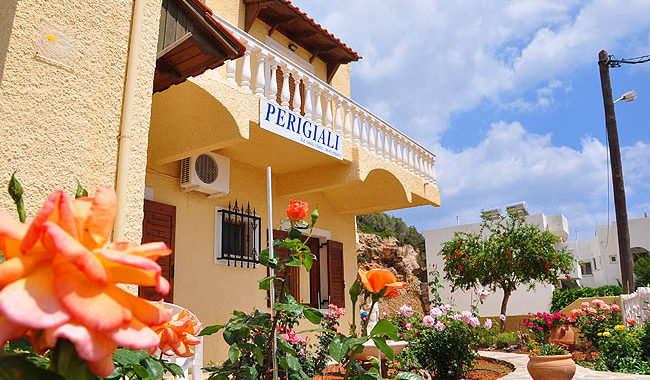 Perigiali apartments to rent are situated on the west of the picturesque port of Makri Gialos (or Makrysgialos), southeast Crete,  near the beautiful beach of Kalamoukanias.
Perigiali apartments are only 50 metres away from the sea and the tranquility of the scenery offers relaxation and peacefulness to the guest.
Perigiali apartments consist of six dual-chambered apartments, fully equipped, which are situated on the ground floor of the building.
Each apartments has its own entrance and its own patio. The apartments are surrounded by a magnificent garden with flowers and trees and a spectacular view of the sea.
The dining room has a cooker and all the necessary equipment such as a kettle, a toaster, a fridge and a sofa that turns into a bed. The bedrooms have two single beds or a double bed. Two of the apartments are connected with a door and are appropriate for a family or a group of six people.
Phone: +30 28430 23862 & 51331
Mob.: +30 6974 879 514
Email: perigiali.makrysgialos@gmail.com
Website: http://www.perigiali-crete.gr
All apartments have an air-conditioning system, satellite TV, free internet, a safe and warm water. The apartments are cleaned twice a week. Also, there is a kiosk, a barbeque and a private parking space.
The guest of Perigiali apartments can walk along the seaside pavement to the picturesque port of Makri gialos. There you can have a nice time at the traditional restaurants and cafes. Also, there are a supermarkets and other facilities in the area.
Perigiali apartments is an ideal holiday destination for families and elderly people who are looking for quietness and want to enjoy the wonderful view of Liviko sea and the magnificent sunset.
Send a message to the owner..