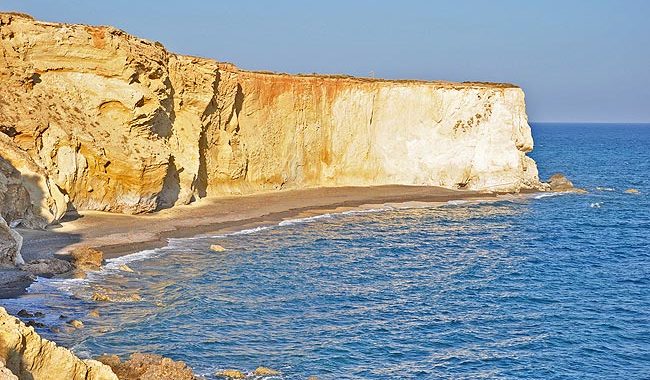 The Peristeras beach is located at a quiet place in east Ierapetra area, southeast Crete. The distance from Ierapetra city is 2km and from Makrigialos 27km. Actualy it is the next beach group at the east end of the big Agios Andreas (Saint Andrew) beach. This is a secluded area with high cliffs surrounding it. The beach is sandy and has several smooth rocks in places.
The area can very easily be acceced by the central road Ierapetra – Sitia at any point. The road is only 100-200m far from the beach. There is also a second sandy beach in Peristeras, just behind the rocky end of the long beach, that can be also accessed by the road. This is very well protected by prying eyes, but there are many rocks.
This is a rugged place with strong winds in the sommer (specialy July-August), ranked among the 5-6 places with strongest wind blasts on Crete. The bays of the area are not very well known although they are very close to the main road and you will rarely see visitors in the successive bays formed. The beautiful scenery is formed by the numerous rock shelters with very special rock formations.
Facilities-Additional Info
Distance: Heraklion 97km – Ierapetra 2km
Beach type: Fine Pebbles – rocks
Facilities: Accommodation options nearby, Food in Ierapetra
Accessibility: Bus stop nearby
Food-Hotels: Restaurant: Ierapetra – Accommodation: Yes