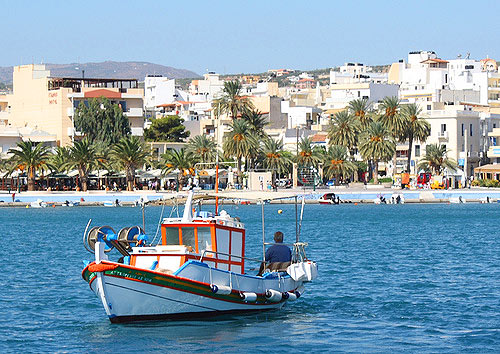 Portobelis Car Rental & Travel Agency
Portobelis Travel & Car Rental Company situated in Sitia of Crete offering quality holidays in an unspoilt area of Eastern Crete, far from the crowds.
Our services include accommodation, car hire, transfer service, excursions, cruises, air & sea tickets.
This website covers exclusively the eastern corner of Crete, which is known as being the most unspoilt area of the island. It has a great deal more to offer than "sun, sea and sand", it offers a real insight into the way the Cretan people live. It is therefore ideal for the individual traveller, but would not really be of interest to the package holiday market.
Our accommodation consists of private villas with pool, Cretan-style houses, apartments, studios and family-run hotels, all carefully selected, based not only on our own judgement and taste, but also on our clients' recommendations. We would not consider the accommodation we offer to be of a luxury standard. All the properties are well furnished and are equipped with everything needed for your holiday.
Our policy is to offer personal service. We make a point of meeting all our clients and are always at their disposal for any information, help or advice they may need. Our aim is to develop and promote traditional and 'ecological' tourism in eastern Crete. We want our visitors to really experience our traditions and culture, to meet the locals and take part in festivals of singing and dancing and, of course, sample the real local cuisine.
Phone: +30 28430 22370, 25585
Mob.: –
E-Mail: info@portobelis-crete.gr
Website: http://www.portobelis-crete.gr
We have found our best means of advertisement to be word of mouth and see clients returning year after year, which proves that our policy works.
Services:
• Accommodation: Apartments, Villas, Hotels
• Car Rental Service
• Excursions
• Bus and Taxi Transfer
• Complete Windsurf Holidays package (For: Sitia, Palekastro, Zakro, Xerokambos, Makri Gialos)
• Surf equipment
• Abroad tickets
Send a message to the owner..