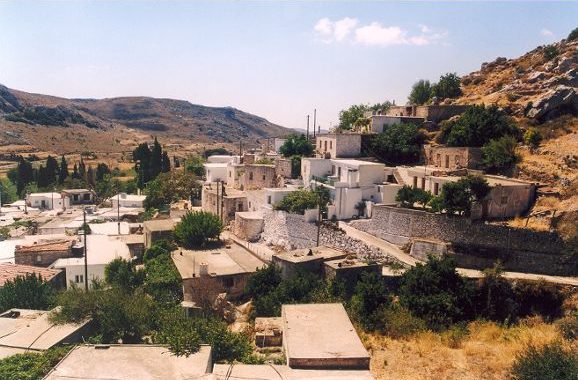 Sitanos (620m above see level) situated not far from Karidi and it is believed that the name is connected with that of Itanos. The tradition is that the people of Itanos, scattered and homeless after earthquakes and pirate raids during the 8th and 9th centuries AD, found refuge here where Sitanos stands today and founded a new village – the name being derived from the genitivecase of Itanos. The Italian archaeologist L. Mariani on theother hand believes that Sitanos is an ancient name and unconnected with Itanos. Othersbelieve that Sitanos was founded at a later date by people of Itanos who had returned to the area of their old city after its destruction in Byzantine years, or after Khair ed-Din Barbarossa's raids (1537-1539) or even after the Turkish raids of 1645-1650. Although Angelakis mistakenly includes Sitanos as having been listed with 54 inhabitants by the Venetians in 1583, this was definitely not so and consequently adds support to the view that it was founded at the end of the 16th or beginning of the 17th century.
In the 1670 Turkish census it was listed as Sitano with 9 people to pay pοll tax.
At Patelia about 1 km north-west of the village Sitanos, at a height of 610 m above see level, is the cave «Οxο Latsidi» which is' one of the biggest Cretan caves. Originally it was thought to be negotiable for only the first 50m, but later Ρ. Faure explored it completely, and it was mapped by Ε. Platakis and Ι. Tsifetakis. It was found to be about 360 m deep altogether. After the entrance there are two chambers, one 34m x 16m, and to the right of it another, 32m deep. From the left-hand chamber a long narrow gallery extends 330m into the hillside; it is between 2 to 8m wide but only 0,50 to 1,50m high. The streams of water give the impression that it was probably once the bed of an underground river. It is rather lacking in naturally decorative features.
Additional Info
Location: Sitia Region – 21 km from Sitia – 26 km from Palekastro
Access: Aphalt road
Residents: 15
Αltitude: 610m
Nothing remains for the visitor to see today, except piles of ruins, of this once flourishing village situated between Handras…