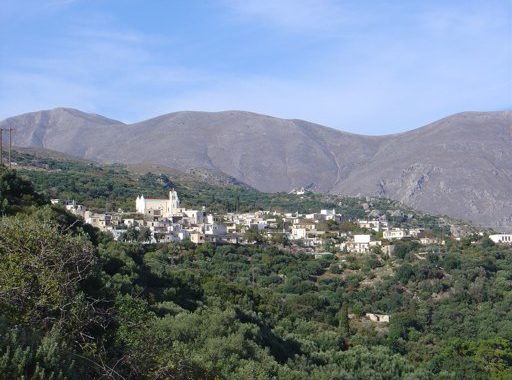 It is an historic large village of Lasithi, renowned for its 24 churches and the festivals in memory of its Saints that take place during the whole year. It is built at an altitude of 313 meters, at a very important location among the other villages of the area and this is something that played a major role in its future development.
Its name derives from a variation of the older name, which was Stravodoxari and probably referred to the crooked (stravo in Greek) bow (doxari in Greek) of the lyre of a legendary musician of the village, as many people believe; however, there are more explanations for the name. Some claim that its first name was because the village, when seen from a long distance, looked like a crooked bow, while it has been also mentioned that the first settler of the village after the liberation of Crete by Nikephoros Phokas in 1961, was named Stravodoxaris.
The picturesque narrow alleys of the village intersect at the picturesque small square at the center of the village. There, at the place where now most of the coffeehouses are, used to be the watchtower of the village, which formed part of a whole series of more of them that would spread up to the sea at every 300 meters, in order to warn the residents about the attacks of the conquerors- signs of its hectic history.
The numerous churches and chapels, 24, are of great interest in the area. The festivals that take place in the memory of Saints during the whole year attract the locals back to their village; the most popular festival is the one that takes place at the Monastery of Panagia Lygia on the 15th of August. The picturesque church of Saint Konstantinos, on the south of the village, stands out as it is built next to waterfall that keeps running during the whole year, creating thus pictures of rare beauty.
Stavrochori was also the birthplace of violinist Stravogiannios, one of the most important musicians in Crete with a great contribution to the special musical tradition of Lasithi.
The local community of Stavrochori also includes Tsikkalaria, a dependency of the area, the name of which derives from the construction of crocks (tsikali in Greek), but it is now abandoned and in the wider area luxurious buildings have been constructed aiming at the touristic exploitation.
One kilometer east of Stavrochori there is Lapithos, a village where just 25 inhabitants live (2011 census) and it is also a very old and historic village as proved by a reference that dates back to 1779. It is thought that it was named after ancient Lapiths, a Thessalian tribe of the Greek mythology relating with the Centaurs.
Additional Info
Location: Makrigialos Region – 28 km far from Ierapetra – 9 km from Makrigialos
Access: Aphalt road
Residents: 185 (2017)
Αltitude: 320m