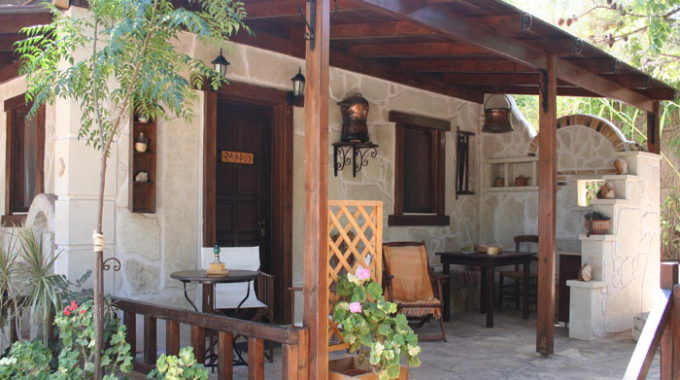 Stella's Traditional resort is built right on the top of the amphitheatric, fertile valley of Kato Zakros, looking the sea high above the olive, orange and lemon trees .
The sea-shore, which is only 500 metres away, is quite close for someone to enjoy the smell and the sea view and far enough to isolate every undesired civilized sound coming from the visitors' cars. So the sounds that will disturb you  come from birds, cicadas and the rustling of the leaves.
More than one hundred big trees (pine trees, carob trees, fig trees, horse chestnut ficus trees, arocarias etc) in the garden  provide a deep refreshing shadow during the hot summer days.
In the evening you will enjoy the  aroma of local herbs such as thyme, oregano, mint, rosemary, sage and throumbi (savoury) mixed with jasmine and basil. <<Stella's Traditional>> is one hundred and fifty meters away from the entrance of the Gorge of the dead,a five minute walk from the Minoan palace an eight minute walk from the beach.
The exterior and the interior decor strictly follows the guide lines of Greek tradition. There are wooden pergolas outside every apartment as well as sun beds, hammocks and isolated corners ideal for reading or day dreaming.
There is also a barbeque and an outdoor kitchen for every apartment.
You will also find an outdoor, gym for weight training under the instructions of Elias (former bodybuilding champion, and writer of the best seller "Enter the modern bodybuilding") and Stella (sports instructor) who both were  gym owners before their move to Kato Zakros.
Phone: +30 28430 23739
Mob.: –
Email: relax@stelapts.com
Website: www.stelapts.com
Inside the apartments you will find a totally rustic atmosphere. Stone built walls, wooden ceilings, hand made furniture and numerous antiques from another era.
But you will not miss the facilities ie to prepare you breakfast or your meal, coffee machine, boiler, toaster, small cooker, oven, cutlery, pans, plates, glasses, as well as refrigerator, air condition, iron, hair dryer, and, and , and… In the cupboards you will find all sorts of herbs and spices and other products (sugar, salt, Greek coffee, filter coffee, Nescafe, olive oil, raki) and a "welcome pack" with some goods for the first breakfast for the newcomers.
All the apartments are equipped with shower or bath with hot water all day around.
Laundry service is also available.
Although the windows are well protected with nets, there are insect-repellent appliances relieving one from possible annoyances.
Notice also that the tap provides you with the best water in Crete.
But above all, you will find the warm hospitality, friendly atmosphere and the smile of Stella and Elias, owners of STELLA'S TRADITIONAL.
Send a message to the owner..