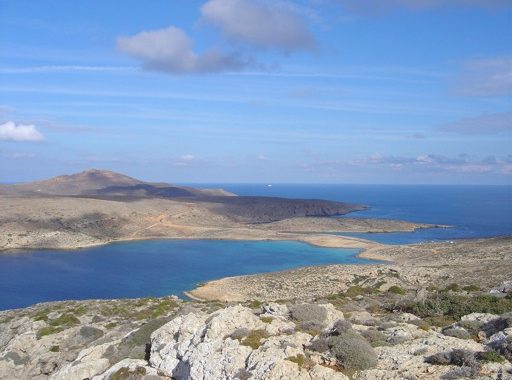 Tenda is a remote rocky area located at the most north-eastern side of Crete, 29km far from Sitia city and 156 from Heraklion. It is 7 kms away from the palm forest and beach Vai and 15 kms away from Palekastro village.
The main feature of the region is the rocks and cliff. The wild raw is perfectly combined with deep blue of the sea and sky. The rocks expanded in the sea create refuge for a lot of fish. The sea at Tenda is ideal for the lovers of fishing and scuba diving. It is popular on the whole Crete and a lot of visitors come here to enjoy the magic of fishing.
Though the rocks rule over the whole area, there are some small, private voes with small sandy beaches ideal for swimming hidden far from nosey eyes.
It is generally very windy in summer (June-September) and you will almost always see windsurfers. Tenda is the most renowned for Freestyle windsurfing because it is exposed to the north winds (Meltemi) and the wind is constant throughout the day and season. Tenda provides both a much wavy area at the west coast and a flat one at the eastern side.
Facilities-Additional Info
Distance: Heraklion 156km – Sitia 29km – Palekastro 15km
Beach type: Pebbles and sand
Facilities: Not organized. Next Restaurant in Palm Beach Vai (7 km)
Accessibility: Asphalt road
Food-Hotels: Restaurant / Cafe: 7km (Vai) – Closest accommodation in Palekastro
Itanos is a city-harbour located 9km far from Palekastro village, Eastern Crete. The site had an important maritime role as revealed by Herodotus. The author mentions the significance of the…