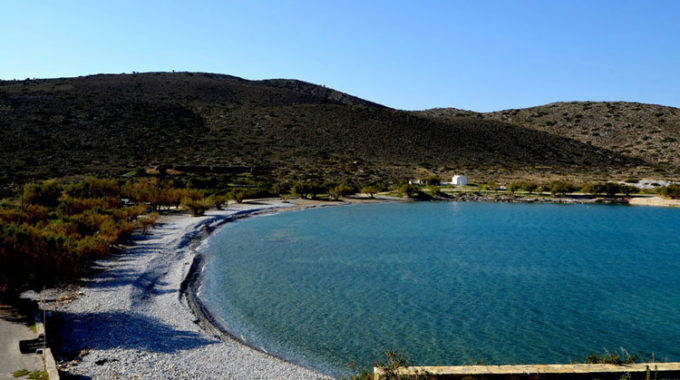 Tholos beach is located 29km eastern of Agios Nikolaos, 45 from Sitia, 23km north of Ierapetra and 3km from the village of Kavousi which is found on the main road connecting Agios Nikolaos and Sitia.
It was a pleasant surprise visiting the beach of Tholos. In the coastal street of Agios Nikolaos-Sitia you take a left turn in the plates as soon as you reach Kavousi. In the end of a winding way through olive grove this tropical beach is found. Tholos is the beach of Kavousi and is usually quiet in the afternoon. The green waters and the olive grove that reaches up to the sand make this beach a very interesting destination for those who explore eastern Crete. It is affected by the winds and on those days (arround July) the sea bed is being stirred, granting the waters an exotic blue colour! The road runs along the beach with many tamarisk trees offering shade.
I love this beach particularly because it has no sun beds or brollies on it. So if that is what you are looking for then this is probably not the beach for you. However in my mind its close to perfect. It is a combination of sand and pebbles so some areas are easier to get in and out of the sea without a pair of beach shoes. But once in, well worth the effort. If you are staying in Kavousi or coming by bus from Sitia/Agios Nikolaos, it is quite a long walk down to the sea.
There is a restaurant part way down the road (from Kavousi) if you need to stop for refreshments on the way and two on the beach itself. The first, a small caravan with a few tables and chairs, is just as you reach the beach and the second a little further along the beach, is a newly built taverna with two seating areas. The first is up by the building and the second is closer to the sea and next to the road. In between is a play area for children. There is plenty of parking and a small area at the far end of the beach where some boats are moored.
Facilities-Additional Info
Distance: Heraklion Airport 88km – Ierapetra 23km – Agios Nikolaos 29km
Beach type: Pebbles and some sand
Facilities: NOT Organized – Tree Shade, Depth: Shallow, Not Crowded, Family-friendly: Yes
Accessibility: Asphalt road from Kavousi
Food-Hotels: Restaurant nearby and some accommodation options. Several rooms to let and taverns at Kavoussi.