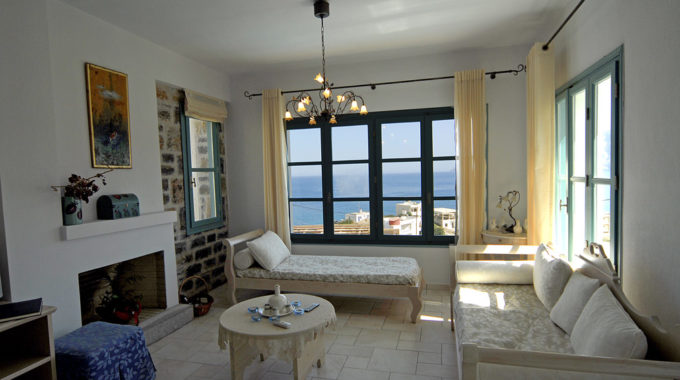 Alkistis Villa offers 3 bedrooms, 3 en-suite bathrooms, one sitting room and a great open plan living room with a dining room and a kitchen. The guests can catch gorgeous sea views from the interior and the balconies.
All the rooms are equipped with air-condition. Each bedroom offers a satelite TV, with dvd, whereas in the lounge a 31 inch satelite TV with DVD is offered. Bathrobes and slippers are aslo provided.
The villa offer two patios with an exterior sitting table and baboo sofas, as well as panoramic sea views by the pool. A breakfast corner and a pergola are also offered next to the main entrance of the villa.
On the ground floor a comfortable living room with fireplace, a double bedroom with a bathroom and a fully-equipped kitchen with fridge, oven, microwave and coffee filter are provided in an open plan design.
On the upper floor two bedrooms with en-suite bathrooms and one sitting room are also provided. All rooms have air-condition and doors leading to a veranda with panoramic views of the village and the island of Mohlos.
The beautiful gardens include a good sized swimming pool just as well as a splendid barbeque, and although some of the best beaches on the island are so close, relaxing by the pool amid the smell of beautiful flowers is just as temping as the sea below.
Phone: –
Mob.: –
Email: –
Website: –
Mochlos is a small, picturesque, peaceful fishing village by the sea, 35 km from Agios Nikolaos and 27 km west of Sitia. It is one of the only truly quiet places left on the North East coast of Crete and has a very laid back and quiet atmosphere which adds to its charm.
There are a few restaurants and cafés and is famous among Cretans for its specialities served in the local harbour tavernas making it an ideal place for a relaxing holiday or romantic break. The sunrises and sunsets from the bay are unforgettable.
There is a small pebble beach in the village and a slightly larger one a few hundred meters to the West. The bays around Mochlos are mainly rocky and great for snorkelling. You can also swim to the island of the same name 150 m form the shore which has a small chapel dedicated to Agios Nikolaos. In Minoan times, Mochlos Island was an important port in Eastern Crete and was probably still connected to the mainland. Today you can take a small boat to the island, to visit the ongoing excavations, which have unearthed some important finds, or to tour the surrounding caves of Castello.
Send a message to the owner..