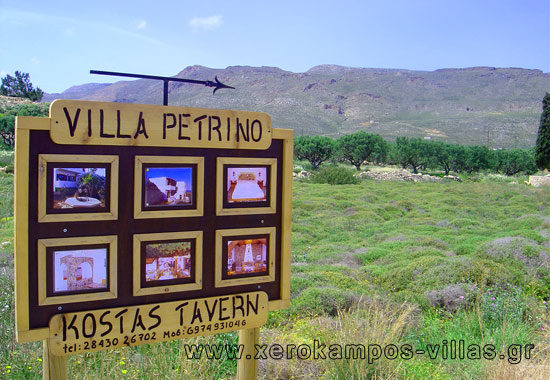 At the most south eastern part of Crete, named Xerokambos, you will find "Villa Petrino", a complex of 6 studios in a beautiful garden, in the same plot with "Kostas" tavern, built with a great zest.
The wide sea, the green olive groves and the wild mountains fill up the picture of the landscape around.
The rooms are comfortable and provide whatever you need, to spend unforgettable holidays with your family or friends.
There are air conditioners, a double bed, 2 built couches (suitable for children's bed, as well), a small coffee table, a big kitchen table with chairs, a kitchenette, a fridge, filter coffee machine, dinnerware, cooking utensils, bathroom with shower, a corridor with a wardrobe and a balcony with view to the sea.
Phone: 0030 28430 26 702
Mob.: –
Email: villapetrino@gmail.com
Website: www.xerokampos-villas.gr
The view you enjoy from the balconies of Villa Petrino is the wide sea without limits, one of the three skerries "Kavali" and the salt lake, resting place of birds (when there is water in it). The gain of such a view is the sunrise and if you're lucky, the full moon.
PROMISE OF OURS: Peace will relax you, nature will beguile you, sea will enthuse you, because Xerokambos is one of the most marvelous havens of Crete and our hospitality will be unforgettable to you.
Send a message to the owner..