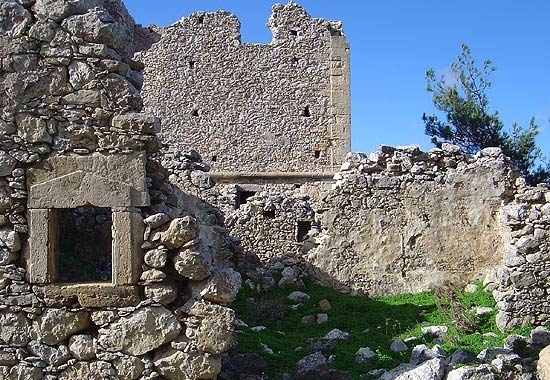 Voila Medieval village and Tower
The village of Voila is 1km away from the village of Chandras on the Ziros-Chandras Plateau, 25 km south of Sitia. It is a medieval deserted village protected by the Archaeological Offices of Eastern Crete.
Passing through the village's alleys you can still see the ruins of old houses and their rooms, their venetian features and through this sacred silence of the place you have the impression that you hear the Byz-antine king, the medieval knight or the Turk fighter gallop away.
The name of the village probably comes from the Byzantine word VOILAS or VOLIAS meaning the nobleman, the land owner.
In a census carried out by Kastrofilaka in 1583, the village of Voila had a population of 301. Many elements show that the village belonged to the venetian family of Zenos which during the Turkish occupation adopted the Ottoman religion and was renamed. The tradition says that he was the owner of a Castle in Voila which has an external inscription with the date 1153 equal to 1742 of the Christian diary. At the south of the castle there is a ruined church known as the church of Ginali.
Other attraction at the area is the old painted church of St. George dated back to the 15th century. From the inscription it is obvious that there is a family tomb of Salamons. The Solomons of the island of Zakynthos where our national poet Dionisios Solomos comes from, are believed to having been descended from the Salamons of Sitia.
At the top of the hill overlooking the village there is a fortress dated back to the Venetian occupation of the island of Crete.
Saint George of Voila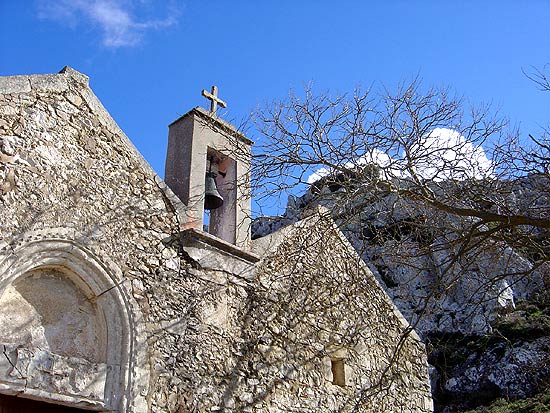 The twin-naved church, dedicated to St. George and to St. John is located southeast of the settlement of Chandras and next to the ruined settlement of Voilas which is dominated by the magnificent medieval tower. The architectural type of the church has emerged as a result of the successive interpolations to the original, single-nave church, the present south aisle, which was originally expanded to the west and to which the north aisle was added later.
On the south wall of the western expansion is a funerary ­monument-arcosolium that has the worn representation of the enthroned All-Holy Virgin the Vrefokratousa with the donors, members of the ­Salomon family, on its drum. George Salomon in 1518 and members of his family in 1560 were buried here, according to the two written inscriptions. A very interesting miniature ­representation accompanies the second inscription on the west wall, in which a scene of funeral mourning is depicted, in a monotone colour scheme, with the dead woman on the deathbed and, around it, the threnodists and, probably, relatives lamenting.
Voila Photo Gallery