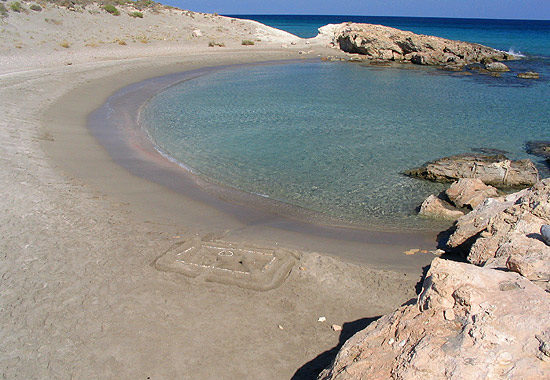 This was for us love at first sight. Xerokampos in the extreme southeast of Crete and can be reached from the substantial village of Ziros or from the village of Zakros which is more north. The roads are good here (there are no more dirt tracks in the area, it's all asphalt). Xerokampos is actually not really like a village or a beach, but it is more like a collection of different beaches, and groups of houses, a hotel, a pension, a few tavernas. The houses, the accommodations and the tavernas lie a bit scattered over the valley. There are crudely said three "main beaches" and than there are several other smaller beaches in the area. On some parts of the larger beaches you can rent an umbrella, but most of the beaches are unspoilt.
Xerokambos is located in an untouched region, 48 km from Sitia, 10 km from Zakros and 28 km from Palekastro. Mountains, olive groves and the magnificent isolated beaches make up the breathtaking scenery. Xerokambos boasts probably the finest beaches in east Crete and is ideal for those seeking peace, quiet and relaxation. Public transport stops in Zakros or Ziros, therefore anyone wanting to explore the area would need to hire a car.
There are two roads to go to Xerokambos. The road from Zakros to Xerokambos is a new asphalt road (10 km). From Sitia, drive the Makrigialos and Piskokefalo road. After 10 km, in Episkopi, turn left to Handras, Ziros, Hametoulo and Xerokambos (45 km from Sitia, on a new surfaced road). There is also a small temporary lagoon (dry from the end of May) at the northern part of the Village. In March and April tavernas are not necessarily open.
Xerokampos is an old settlement and people have long lived in these areas, way before modern civilizations were built. It is first recorded in the 1583 Venetian census. The ancients were certainly aware of the beauty of this place and its important position and the site has been inhabited since the Minoan times.
The settlement would appear to have been at the spot called Katsounaki and on Trahilas hill a peak sanctuary already looted was discovered. There are important ancient sites from Hellenic times on the hills of Antisternia and Farmakokefalo. At Farmakokefalo where the excavations are under the authority of the archaeologist N. Papadakis an important town, mainly of the Hellenistic era was brought to light. It is possible that the town is Ambelos which various literary sources and correlation place in this area of Crete.
Facilities-Additional Info
Distance: Heraklion 175km – Sitia 45km
Beach type: Sand, Fine sand
Beach length: 630 m (The main south Beach)
Facilities: Accommodation nearby, taverns nearby, Umbrellas & beds, Showers, Blue Flag, Tree shade, Rock Shade
Accessibility: Asphalt