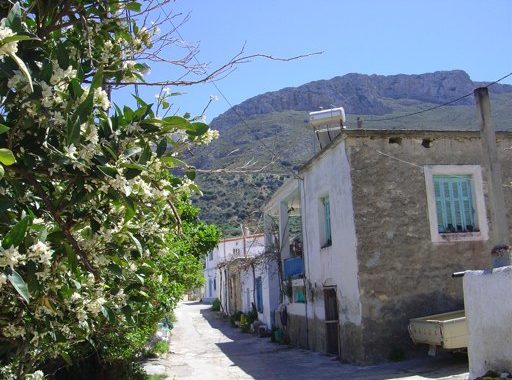 This village is about 7 km from Sitia and is part of the Stavromenos community. The name could be derived from the Turkish word «sou» – meaning water, as the village has a spring with abundant running water. Many people believe that the name is prehistoric. In anycase it has not yet been possible to confirm the statement that it was referred to as Sou in a text of 1611, i.e. before the Turkish occupation.
In Venetian manuscripts it is referred to as both Sisu and Sissu, and Castrofylaca writes it Sisu and Xisu in his census of 1583 when it had as many as 337 inhabitants; today no more than 30 remain. Α little before one reaches the village, on the right can be seen the ruins of a Minoan villa which Ν. Platon eχcavated in 1955-56. This is a building of large dimensions with many rooms – such as a workroom, a sitting-room, rooms for relaxation, and others. Α pottery kiln was also found and a fiχed hearth etc.
The excavator dates the villa to the transitional years between middle minoan and late minoan period. The site seems to have been inhabited only for a short period. In 1911 the necessary work was completed to pipe water from Zou's plentiful supply to provide water for Sitia.
From the book "Sitia", N.Papadakis, Archaeologist
Additional Info
Location: Sitia Region – 7 km from Sitia
Access: Aphalt road
Residents: 20 (2012)
Αltitude: 170m
Zou Village and the Minoan mansion