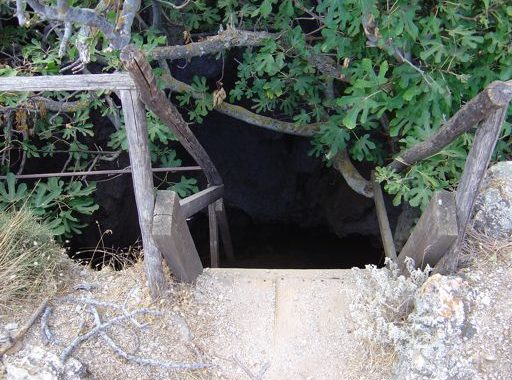 The cave of Vreiko is located about 2km north-east of the village of Pefki, Makrigialos. It is a cave and gulch and the known depth is 25-30 metres. The Entrance is an open and flat place that looks like a threshing floor. In the entrance there are stairs that make the entry and exit to the cave easier. A fig tree has grown at that place and its bouches cover a big gallery which is about 60-70 metres long. At the entry and the end of the gallery there are signs from the Neolithic Era.
South of the entrance is the gulch (Latsida) where there is water which dries up during autumn. At this part of the cave there metallic stands to assist people on their ways up and down. In every corner of the cave there are beautiful stalactites and stalagmites.
It is not difficult to visit this cave as cars can go about 250 metres before the caves entrance on the west side and almost on a daily basis, during summer months people visit the cave.
The asphalted road leads 500m before Vreiko Cave. At the end of the road, you have to go on foot for 5-10 minutes to the cave.
There is a flight of stairs. Without it the descent in the cave would be impossible.
A metallic bar is very helpful as we go down in the cave as the grade there is great enough.
You will surely marvel at the fig tree, which has been grown in the cave and its thick leafage covers the entrance.
At the deepness of the cave there is a small pond.
View from the spot of the cave to Makri Gialos area is very impresive. At the background, to south, you can see the Libyan Sea.
Additional Info
Location: 10km from Makrigialos
Access: 500m by path
Facilities: Not organized
Αltitude: 620m
Other things to do in the area..
During summer, on a daily basis, cars occupied by Greek and overseas tourists arrive at Pefki village, where they walk through the alleys by taking photos of village and the surrounding…