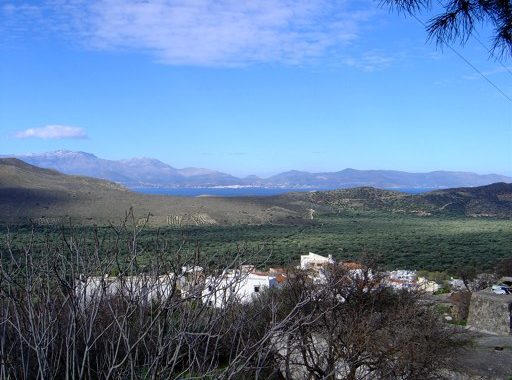 It is built at the foot of two imposing mountains and it is one of the most interesting villages in Ierapetra. At an altitude of 140 meters with a view of the planted all over with olive trees flatland and the waters of the Cretan Sea, Kavousi is a historic and really lively village that offers many activities and sights.
The exact etymology of its name remains unknown; however in the Cretan dialect it describes a small hole, a trough where water is gathered. The first historical registration with this name seems to have taken place in 1577, but the area has been being inhabited for thousands of years and this is obvious by the number of the Minoan settlements and rare ecclesiastical monuments that have been discovered in its surrounding area.
The square with the traditional coffeehouses at the center of the village is a reference point and at a small distance there are the churches of Saint Georgios and Twelve Apostles that are worth your attention.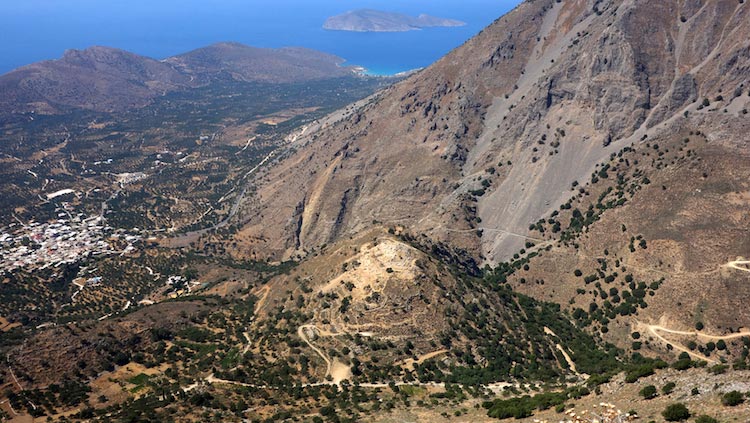 Just 3 kilometers from the center of the village there is the beach of Tholo. The sandy beach with the shallow waters and the tamarisks creates the ideal circumstances for carefree holidays. There will be also evidence found about the age of the history of the village. The ruins of the Roman warehouses stand imposing next to the bathers in the summer, and after a short walk you will find the remarkable chapel of Agios Antonios with its wall paintings.
Opposite, Psira can be seen; an island that thousands of years ago formed a basic part of the Minoan civilization with a big port and a big city that were discovered in the beginning of the previous century. The only shipwreck of the Minoan era that has been found until today was there in 2006. The view of the island –and the whole bay of Mirambello- from the area of Platanos, on the east of the village, is very impressive.
Ascending towards the mountain of Afendis, we can see another great historical monument; an ancient and extremely impressive olive tree, almost 3.500 years old, with a huge trunk the diameter of which is more than 20 meters. It is one of the oldest trees in the world that has been declared a protected monument because of its adjacency with the Minoan settlements as well.
The settlements of Avgos, Tsamantis and Drakalevri are the ones that are found next. They are now an excursion destination for the people of Kavousi, however they hide memories of difficult periods since many were those who used to seek for a cover in the rutty peaks.
Additional Info
Location: Ierapetra Region – 19,8 km far from Ierapetra – 28 km from Agios Nikolaos
Access: Asphalt road
Residents: 653 (2017)
Αltitude: 120m