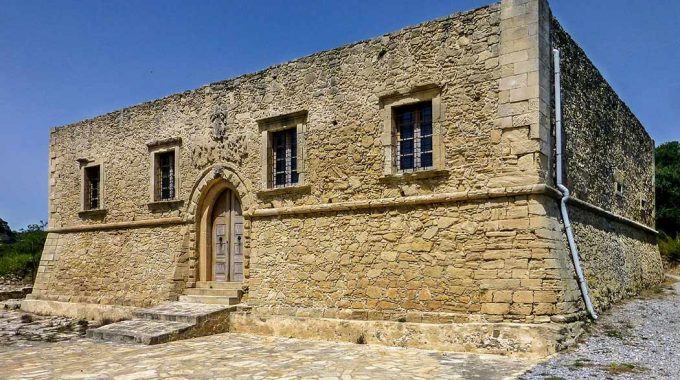 Etia Venetian Villa or Villa De Mezzo
Etia is a small settlement situated in the Municipality of Lefki. It's 2 kms far from the village of Papagianades and 22km south of Sitia, driving to the village of Armeni on the Ziros-Chandras Plateau. In a Venetian census in 1577 was recorded with a population of 564.
The village of Etia was at peak of its power around the Venetian occupation and from the presence of the St. John and St. Aikaterini churches one assumes that the village also existed through the Byzantine period as well.
The village used to be private property of the De Mezzo family, a venetian family, where they built their three-storeyed house, the Seragio Serai House, which used to host Turkish officers as well during the Turkish occupation and can be seen nowadays. This House is considered to be one of the most important samples of the Venetian architecture in Crete. The church of St. Aikaterini used to be occupied by the Turks as a mosque until the Cretan revolution in 1897.
Etia was deserted during the 1950's when most of the inhabitants moved a bit further, to the more modern village of Armeni.
At the south of village of Etia there is the hill of Etiani Kefala at an altitude of 715 m. where it used to be a sacred place but unfortunately nowadays looted.
Etia Photo Gallery
The Village of Armeni (1km)
The village is located after Etia and before Chandras village. It is surrounded by gardens and fields, while the watermills that are preserved and function create a beautiful scenery. At the valley of Armeni there is the church of Aghia Sofia, which used to belong to the notable monastery that flourished in older times, bearing the same name. The cave of the "Agio Pnevma" (Holy Spirit) is also located in the area.
It was first recorded in a venetian census in 1583 with a population of 428. Today the village has approx. 300 inhabitants.
Visit also in the area..
The village of Voila is 1km away from the village of Chandras on the Ziros-Chandras Plateau, 25 km south of…