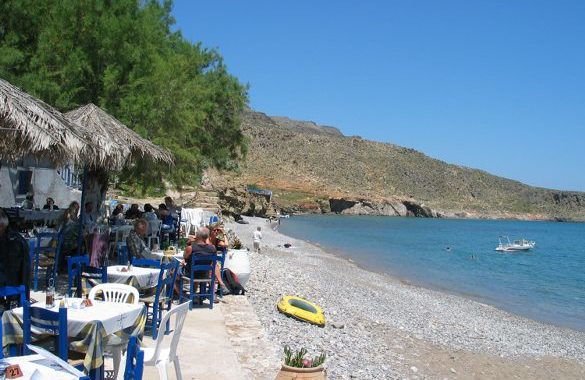 The settlement of Kato Zakros, only 8 km away from Pano (upper) Zakros, 25 from Palekastro and 44 from Sitia is an impressive small fishing village, hidden away in the southeast corner of Crete, behind a beautiful tamarind-fringed beach.
There are several excellent fish tavernas on the beach, ideal for relaxed, long lunches or for romantic evening meals. Anyone staying in Kato Zakros should walk down the 'Valley of the Dead', approximately a 2-hour walk, which leads down from Pano Zakros to the sea at Kato Zakros.
The beautiful beach on the edge of the settlement is formed within a large protected bay. It is mainly pebbly with some rocks in places and has wonderfully blue-green waters. It is not organized with umbrellas, but there are many trees offering shade. Kato Zakros remains peaceful, even in August, and the rocky seabed is ideal for fishing.
There are actualy three beaches in Kato Zakros, next to each other. The first one to the south you will see when you drive into the village is the largest one and it consists of sand an pebbles. The second one (as you follow the path to the north) is a smaller pebble beach where the fishing boats lay. It is mostly used by the few locals of Kato Zakros if they want to take a swim. The last one is an even smaller but very attractive pebble beach that you can reach by stairs. It is sort of enclosed between the rocks.
Facilities-Additional Info
Distance: Heraklion 173km – Sitia 44km
Beach type: Pebbles
Beach length: 650 m
Facilities: Accommodation nearby, taverns nearby, Umbrellas & beds, Showers, Blue Flag, Tree shade
Accessibility: Asphalt
From the northest point of Kato Zakros beach,  you follow the path that leads to a rocky plateau almost at the same level with the sea, after which you cross a stream. Then, continue parallel to the coast, in a very clear path, which climbs lightly up towards the entrance of the Pelekita cave (120m elevation), with a characteristic fig tree at the entrance.
From the cave, the path which becomes hard to discern, descends for about 500 m, to the ancient quarry .
From the quarry and on, where the indistinct path continues along the coast at a higher level, it passes by the mouth of the Adiavato cave and then climbs up to the top of a steep slope.
From this point, you follow the same contour for about 600 m; the entire bay of Karoumes, with the beach at the end of the gorge of Chochlakies lies before you, to the north. You arrive there, passing by a smaller beach and having bypassed the rocky southern slope of the Karoumes main beach.