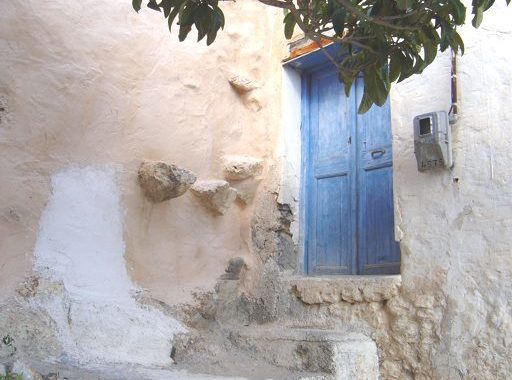 This village (420m altitude) is 36 km from Sitia and 30 from Ierapetra, situated on a small road which runs from Agios Stefanos to Stavrohori; it can also be reached by a side road (about 6 km) which turns inland from the main Sitia ­lerapetra road at the rise at Makrigialos. A quite big part of this road passes through the "Pefkiano" gorge, a wonderful landscape with plenty of pine trees.
A little before Pefki we have a panoramic view of that typical traditional Cretan village. It is built with narrow paved streets and old stone built house. A small folklore museum provides information on the history and the day to day life of the village. The name is clearly derived from the pine trees that cover this area (pefki : pine trees). It was not mentioned in Castrofylaca's 1583 census. Above Pefki, οn the peak Kastelopoulo, a small Late-Minoan building has been located; this was perhaps a watchtower or beacon.
Walkers on their way to the coast through Pefki Gorge, enjoy the natural beauties of the place, the sun, fresh and full of aroma air of countryside, the mountains and the sea. Beginning from the village, they pass through the olive groves and they pass from the abandoned 'Ilias' watermill' as it is known today. After the watermill, follows the attractive and scenery path. Its length of the Gorge is about 1000 m, width is an average of 90 m and depth from 10 to 120 m. It is full of pines, platens, locusts, hollies and other forestall plants.
During summer, on a daily basis, cars occupied by Greek and overseas tourists arrive at Pefki village, where they walk through the alleys by taking photos of village and the surrounding…
Additional Info
Location: Makrigialos Region – 30 km far from Ierapetra – 7 km from Makrigialos
Access: Aphalt road
Residents: 140 (2017)
Αltitude: 430m