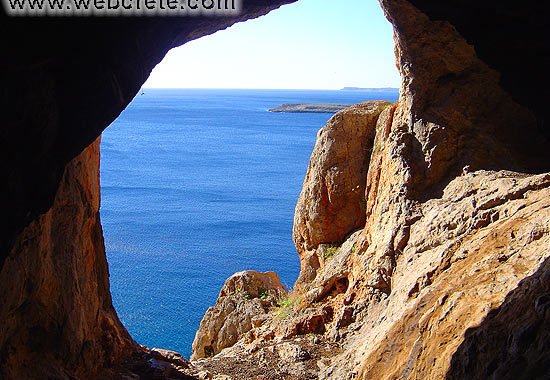 If you desire to be acquainted of eastern Crete, don't forget to visit Xerokambos, a seaside resort known as a summer holidays' destination and known because of the lilies grown on the sand. The inhabitants of the small village of Xerokambos depend on the olive oil and the tourism.
We walk along the south seaside of Xerokambos on a narrow dirt road southwards, which it stops after 2 kms of walking. On your right quaint shapes of cliff overhang, badges of eastern Crete and on your left you enjoy the view of the deep blue of Cretan Sea. In the depth of focus you can see Koufonisi island, which you can visit on boat from Makri Gialos.
Where the dirt road ends, we go on walking on a path, which is indistinguishable in some places. Off and on there are small heaps of stones which show the path in some way and help us not to stray from our route. We need to keep our wits for a while, but the route to Agia Irini is easy, as we walk along the seaside at the most of its part.
Eastern Crete is the ideal place for them who love hiking and enjoy discovering the natural beauties of Greece. Though this route is not well known, the landscape is really impressive and gives a breathtaking experience.
From Xerokambos to the small beach of Agia Irini is about 2 hours walking. The attribute of the resort is the wild rocks, the imposing landscape and the arid hills, which expand along the route. The solid rocks and rough limestone hills are disturbed by spectacular gorges and craggy dingles.
There are amazing beaches for swimming in Xerokambos. There are also some taverns which is open only in summer months but in Agia Irini there is no resident population and that's why is completely deserted.
Read about the Xerokambos Beaches
This was for us love at first sight. Xerokampos in the extreme southeast of Crete and can be reached from the substantial village of Ziros or from the village of…
Additional Info
Altitude: 0 – 100 m
Starting Point: Xerokambos southern beach
Path Type: Dirt road for 2km – Path for 2km
Difficulty: Easy
Walk distance (with return): 8 kms : 2,5 – 3,5 hours
Kato Zakros - Xerokampos The route starts from the southern point of the beach of Kato Zakros. For information please contact the local tavernas, to provide orientation to the starting…