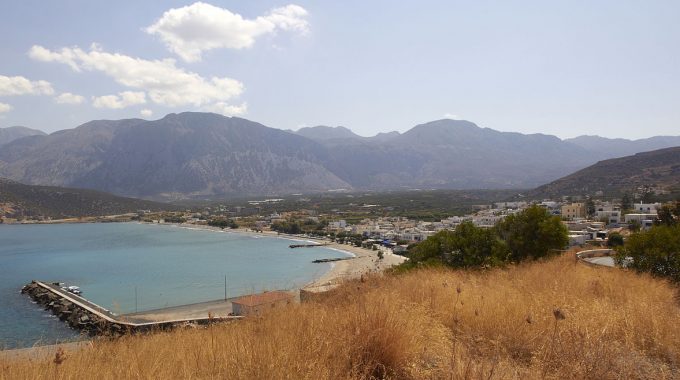 Pachia Ammos Beach and Village
Pachia Ammos is situated in the northern part of the county of Ierapetra. It covers the area from the western slope of the mountain "Thripti" to the coast at the creek of the gulf of Mirabello. Pachia Ammos is situated on the most southerly point of the Bay of Mirobello. It is 1 hour drive from the Airport of Heraklion. Pachia Ammos is 20 minutes drive from Agios Nikolaos and 10 mins drive from Ierapetra on the South coast. East of the village of Pachia Ammos stands the imposing Ha canyon which is refuge of many species of Cretan flora and fauna.
The municipality of Pachia Ammos conisits of the villages:
Pachia Ammos, a coastal village of 495 inhabitants, 15 km north of Ierapetra and 21km from Agios Nikolaos, is the seat of the municipality. The village has a small harbor and a long sandy beach.
Vasiliki, a traditional village located on the hill overlooking the area at 90m a.s.l. 5km away from Pachia Ammos, with 191 inhabitants.
Monastiraki, a small traditional village of 20 inhabitants built on the foot of Thripti mountain close to the gorge of Ha. It is located 5 km southeast.
Visitors would be advised to hire a car for convenience although a taxi service is readily available. There is a very good public bus service which is always on time and travels the whole island daily. Pachia Ammos is a stop on this service, cars can be hired at Agios Nikolaos-Ierapetra and Istron, there are many different companies to choose from.
Additional Info
Location: Ierapetra Region – 15 km far from Ierapetra – 20 km from Agios Nikolaos
Access: Asphalt road
Residents: 488 (2017)
Αltitude: 10m